Automatic Pool Covers
Warm up your swimming pool by 4 to 8ºC - only using free sunshine and smart design. You can operate the cover very easily and automatically with a keyswitch or remote control in order to open or close the cover to the programmed end positions. The Pool cover can bear the weight of a small pet, child or even an adult. If you have several children, you might want to consider a total safe Kids Cover.
Get more info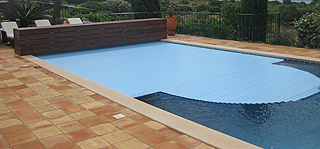 Top Mount Cover
The top-mounted mechanism is installed on the pool wall. The slats must drop directly on the water, without touching the walls. The slats can be hidden in a bench of tropical wood or in PVC and Aluminum cover Easy installation. Can be controlled manual, electric or by solar power.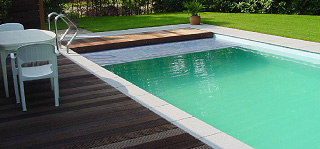 Underwater Mount
At construction, you can integrate an automatic pool cover in niche or in the pool. The system is underwater, the slats completely disappear into a niche behind the pool under a grate in plastic or wood. Making for a very aesthetic looking swimming pool. Differents options for existing pools.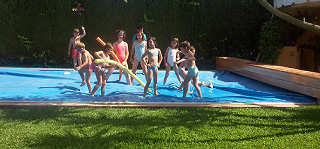 Kids Safe Covers
The Aquaguard is a safety cover. A reinforced fabric is led and held by aluminium rails. Because the fabric is not stretched, the water can support the weight of several persons. Keeps the water warm and clean. Can cover any shape of pool and automatic and manual versions are available.
---
Solar Technology
Energy saving; by covering a pool, evaporation and heat losses are limited to a minimum. Function as a greenhouse, gathering and trapping the incoming sunrays. Also great benefits for indoor pools. Major contributors to keeping the swimming pool clean.
Free Solar Energy will warm up your pool 4 to 8ºC.